Communities Cooperate to Make Paving Progress
BUILDING CLOSURES
Closed All Day – November 12, 2018
Closed All Day – November 22, 2018
Closed at 11:30am – December 24, 2018
Closed All Day – December 25, 2018
Closed at 11:30am – December 31, 2018
Closed All Day – January 1, 2019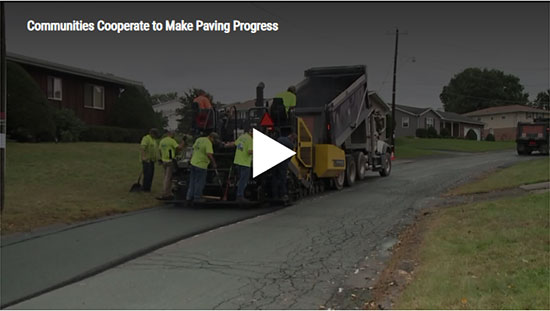 There are two freshly paved roads in a neighborhood in Hanover Township.
ATTENTION RESIDENTS OF HANOVER TWP.
Luzerne County Board of Elections has changed the following polling sites in Hanover Township:
---
WARD 1 (Formerly Hanover Green Fire Station) will now vote at the Hanover Township Fire Department Headquarters, 1586 Sans Souci Parkway, Hanover Township
WARD 6 (Formerly at ASkam United Methodist Church) will now vote at the Luzerne County Records Storage Facility, 85 Young Street, Hanover Township
---
Changes are effective for the November 6, 2018 election

1770-2013: A Brief History
Hanover Township has a most interesting history. One of the original Connecticut Townships laid out by the Susquehanna Company, Hanover Township is located in Northeastern Pennsylvania along the Eastern Bank of the Susquehanna River in the heart of the scenic Wyoming Valley. Its early history is interwoven with some of the most stirring incidents of the Wyoming Valley life of pioneer days.
The pioneers in Hanover Township had already made history in southern Pennsylvania. Among the settlers were strong minded, self-reliant men of Scottish-Irish antecedents, men who, in the time of the Indian unrest that followed the French and Indian war, had relied more upon themselves than upon the government for protection. The "Paxton Boys" of Lancaster County, had dealt so sternly with the Conestoga Indians in 1763 that there was peace on the Conestoga and that part of the Susquehanna for many years after.  Captain Lazarus Stewart and his company of forty -most of who were "Paxton Boys" - moved from Lancaster County into the Wyoming Valley in 1770 and fought for Connecticut against the Penn's. For their services to Connecticut, Captain Stewart and his followers were granted the tract of land which became Hanover Township. The Township area embraced all the land from Wilkes-Barre south to Newport Township, and all the land between the Susquehanna River and the Lehigh River, including most of the land now within Hanover, Wright, Fairview, Bear Creek, Buck, Dennison, and Foster Townships plus two thirds of Nanticoke and all of Ashley, Sugar Notch and Warrior Run. Hanover Township was founded in 1770 by Captain Lazarus Stewart and named for his hometown of Hanover in Dauphin County.