Hanover Township has an opening in the Road Department for the position of MECHANIC.
Any interested individual is asked to fill out an application available at the Township Secretary's Office.
The minimum qualifications for the position are as follows.
Please provide a copy of your Valid CDL with your application and an explanation of the remaining items in writing.
Must have Valid CDL - Minimum Class B with Air brakes endorsement; Must have welding experience (Stick and Wire); Must have Equipment operating experience; Must have mechanical abilities and general understanding of Small Engine Repair; High School Diploma or Equivalent.
The full job description is also available at the Township Secretary's Office.
Applications will be accepted until February 3, 2023. 
Hanover Township is an Equal Opportunity Employer and prohibits discrimination and harassment of any kind. All employment decisions are based on business needs, job requirements and individual qualifications, without regard to race, creed, color, national origin, sex, age, religious belief, union or non-union status, physical handicap or disability, marital status, gender identity, sexual orientation, family/parental status, pregnancy, genetic information, income derived from public assistance programs, political beliefs, military service, or any other protected classification.

Township History
Overview of Hanover Township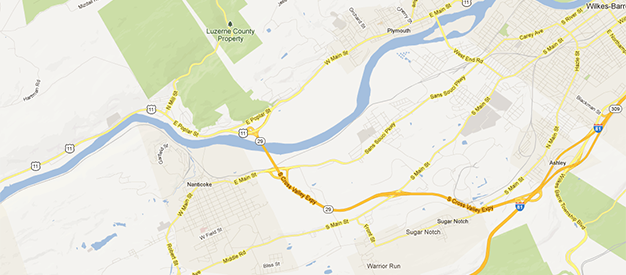 A Brief History
As one of the original townships outlined by the Susquehanna Company of Connecticut, the land that we now call Hanover Township had a turbulent beginning. Captain Lazarus Stewart, commissioned on
behalf of CT to settle an area in Wyoming Valley, and his 40 men known as the "Paxton Boys", from Lancaster, made their way north through Mauch Chunk and the Warrior Path over the mountains into Hanover in the fall of 1769. Stewart and his Boys engaged PA Colonists called Pennamites in a nearly three-year long war with each side attacking, claiming and re-claiming the valley.
August 1771
Stewart prevails.
1771 - 1787
Stewart and his "Boys" rewarded as land is marked and divided. He builds residence and blockhouse to resist Native American attacks in Breslau section of township.
1774 - 1775
Early settler Peleg Burritt came from Connecticut to Hanover and laid out Hanover Green in New England style. At the rear of the area, a church and small cemetery were established. This first area house of worship was later burned by Indians following the Wyoming Massacre.
May, 1776
Middle Road, River Road and Hanover Green Cemetery are established. The Cemetery is the oldest in Wyoming Valley and one of the oldest continuously operating in the country. It is the final resting place for notables such as PA Governor Arthur James, Nanticoke Mill Memorial Library benefactor Samantha Mill and Rufus Bennett, who served as bodyguard for General George Washington.
Declaration of Independence signed less than one month after establishment of Hanover Green Cemetery.
June 30, 1778
Approximately 400 British Provincials and 600 Iroquois Indians were met by 400 brave valley settlers in Forty Fort. Three hundred residents, including Captain Stewart and all 26 Hanover men were killed in what became known as the Wyoming Massacre. The remaining settlers fled and their homes were destroyed and personal property taken by the Iroquois.
July, 1778
Despite frequent Indian raids, some settlers returned, and as and the Revolutionary War raged, life was difficult for them. By 1781, less than 200 acres were cultivated.
September 3, 1983
War for Independence ended and Hanover began to prosper.
1797
"Postboy" delivered mail to Hanover, Berwick and Wilkes-Barre Township once a week. Businesses needed for, and commensurate with, the times began to emerge and flourish.

1820
Hanover population was 879.
1839 and 1853
Boundaries of Hanover were reduced to enable areas of Wright, Fairview, Bear Creek, Buck, Dennison and Foster Townships to establish their own communities.

1843
The "Iron Horse", Lehigh and Susquehanna Railroad, was established. Prior transportation included wagon, horseback and river vessels.
1860
As the land was rich in anthracite coal, mining became the mainstay of Hanover. With a coal value of $73 million, Hanover was labeled as the richest township in the world.
1867
Lehigh Valley Railroad was established between White Haven and Wilkes-Barre.
August, 1875
The residents of Hanover were looking to find an area that could be used for picnics and other outings. With its rolling hills and patches of trees, along with a running stream, a place called Hanover Grove was established. In 1892 the name was changed to Hanover Park
1893
The area's first high school was established on Old River Road and had an initial graduating class of three students.
1905
The permanent name of Sans Souci Park emerged. The name "sans souci", was chosen to honor the summer home of King Louis XIV at Versailles, and the French to English translation is "without care."
1905 - 1970
Generations of Hanover and nearby community residents enjoyed the food, rides, arcade, dancing, etc. at Sans Souci Park. School picnics, ethnic and service organization celebrations were heavily attended and revered, and fond memories endure. The owner of the park was Ed Lee.
1972
In the aftermath of Hurricane Agnes, the abandoned park became a dumping ground of flood debris. Following years of land reclamation and improvement the site was cleared for further development.
Fall, 1979
As a result of consolidation of school districts, Hanover Area Junior-Senior High School was built and the first students began to study there in October, 1979. The 43rd HA Class will graduate in June, 2022.
Hanover Township is one of the four first class townships in Luzerne County, having been promoted to this class on 02/24/1911. Today, with an area of approximately 20 square miles and a dynamic population of 11.000, the community continues to flourish. With an accredited 24-hour police department, recently built centralized fire station along with other impressive services, the township continues to improve, grow and prosper as a proud, progressive community.