Welcome to our Website...
Posted on 9 mar 2013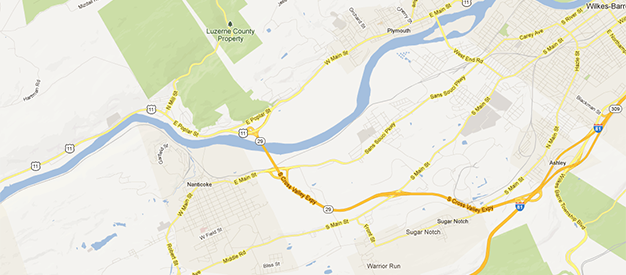 1770-2013: A Brief History
Hanover Township has a most interesting history. One of the original Connecticut Townships laid out by the Susquehanna Company, Hanover Township is located in Northeastern Pennsylvania along the Eastern Bank of the Susquehanna River in the heart of the scenic Wyoming Valley. Its early history is interwoven with some of the most stirring incidents of the Wyoming Valley life of pioneer days.
The pioneers in Hanover Township had already made history in southern Pennsylvania. Among the settlers were strong minded, self-reliant men of Scottish-Irish antecedents, men who, in the time of the Indian unrest that followed the French and Indian war, had relied more upon themselves than upon the government for protection. The "Paxton Boys" of Lancaster County, had dealt so sternly with the Conestoga Indians in 1763 that there was peace on the Conestoga and that part of the Susquehanna for many years after.  Captain Lazarus Stewart and his company of forty -most of who were "Paxton Boys" - moved from Lancaster County into the Wyoming Valley in 1770 and fought for Connecticut against the Penn's. For their services to Connecticut, Captain Stewart and his followers were granted the tract of land which became Hanover Township. The Township area embraced all the land from Wilkes-Barre south to Newport Township, and all the land between the Susquehanna River and the Lehigh River, including most of the land now within Hanover, Wright, Fairview, Bear Creek, Buck, Dennison, and Foster Townships plus two thirds of Nanticoke and all of Ashley, Sugar Notch and Warrior Run. Hanover Township was founded in 1770 by Captain Lazarus Stewart and named for his hometown of Hanover in Dauphin County.
Township

News

Posted on 15 july 2014 Non-Residential Annual Sewer Fee

As outlined in Hanover Township Ordinance No. 009-2013, "user charges for non-residential establishments shall pay a fee or annual user charge based on a metered water usage and consumption as determined in the Hanover Township Meter Schedule", this new fee schedule has commenced on July 1, 2014. First mailings of these bills are scheduled for October 2014.

Posted on 15 july 2014 Congressman Barletta Outreach

A representative from Congressman Barletta's Office is on site at the Township Municipal Building each second Tuesday of the month. If you have concerns or input that you would like to convey to Congressman Barletta you may visit the representative during this time.