Hanover Township Recycling Schedule 20018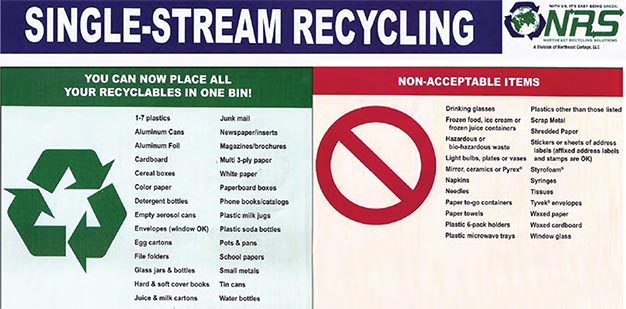 Yearly Schedule
Tuesdays for - Upper Askam, Lower Askam, Witinski's Villa, Truesdale Terrace, Grandview Acres, Loomis Park, Clarks Crossroads, Ledgewood Gardens

January 2, 16 & 30
February 13 & 27
March 13 & 27
April 10 & 24
May 8 & 22
June 5 & 19
July 3, 17 & 31
August 14 & 28
September 1 1 & 25
October 9 & 23
November 6 & 20
December 4 & 18

Tuesdays for - Marion Terrace, Iona Place, Countrywood, West St. Mary's Road, Durkee Farms, Fairway Estates



January 9 & 23
February 6 & 20
March 6 & 20 11
A pril 3 & 17
May 1, 15 & 29
June 12 & 26
July 10 & 24
August 7 & 21
September 4 & 18
October 2, 16 & 30
November 13 & 27
December 11 & *24

Wednesdays for - Hanover Green, Lincoln Heights, Sans Souci Trailer Court, Dewey Park



January 3, 17 & 31
February 14 & 28
March 14 & 28
April 11 & 25
May 9 & 23
June 6 & 20
July *9 & 18
August 1, 15 & 29
September 12 & 26
October I0 & 24
November 7 & 21
December 5 & 19

Wednesdays for - Korn Krest, Buttonwood, Allenberry, Sans Souci Parkway, Clifton Court, Parkway Hills, Dundee

January 10 & 24 February 7 & 21
March 7 & 21
April 4 & 18
May 2, 16 & 30
June 13 & 27
July 11 & 25
August 8 & 22
September 5 & 19
October 3, 17 & 31
November 14 & 28
December 12 & 26

Thursdays for - Lee park (Except for Penn Street, Knox Street, Taft Street, Oaklawn Avenue, & East St. Mary's Road)

January 4 & 18
February 1 & 15
March 1, 15 & 29
April 12 & 26
May 10 & 24 J
J une 7 & 21
July 5 & 19
August 2, 16 & 30
September 13 & 27
October 11 & 25
November 8 & *26
December 6 & 20

Thursdays for - Newtown, Preston, Sunny Hills




January 11 & 25
February 8 & 22
March 8 & 22
April 5 & 19
May 3, 17 & 31
June 14 & 28
July 12 & 26
August 9 & 23
September 6 & 20
October 4 & 18
November 1, 15 & 29
December 13 & 27

Fridays for - Penn Street, Knox Street, Taft Street, East St. Mary's Road, Hanover Hills, Liberty Hills, Dundee Apartments

January 5 & 19
February 2 & 16
March 2, 16 & 30
April 13 & 27
May 11 & 25
June 8 & 22
July 6 & 20
August 3, 17 & 31
September 14 & 28
October 12 & 26
November 9 & 23
December 7 & 21

Fridays for - Breslau, Lyndwood, Pine Run Road




January 12 & 26
February 9 & 23
March 9 & 23
April 6 & 20
May 4 & 18
June 1, 15&29
July 13 & 27
August 10 & 24
September 7 & 21
October 5 & 19
November 2, 16 & 30
December 14 & 28

HOLIDAY

PICK UP DAY FOR RECYCLABLES

Independence Day
Thanksgiving
Christmas
New Year Day 2019
Mon, July 9
Mon, November 26
Mon, December 24
Mon, December 31

HOLIDAY
PICK UP DAY FOR YARD WASTE & LEAVES
Memorial Day
Labor Day
Columbus Day
Veteran's Day
Tues, May 29
Tues, September 4
Tues, October 9
Tues, November 13
Yard Waste Collection
Yard Waste (grass & leaves, etc.) will be collected every
Monday beginning Monday, April 9 thru Monday, November 19
NOTE: Before April 9 and after November 19, yard waste and leaves can be taken to
Earth Conservancy Compost Facility located on Kirmar A venue, Newport Township.
Yard waste and leaves must be placed in containers. NO PLASTIC BAGS!
Please Note: Recycle for Christmas Day & New Year Day will be picked up the day before.